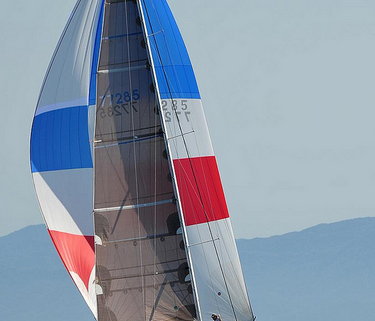 Well all right now. It's straight up midnight, and it looks it.
Pitch black at the moment, even though we know there is a nearly full
moon up there, somewhere. Just a couple hours ago, we passed the
halfway mark in the 2014 Pacific Cup. At this point, we are farther
from dry land than you can get anywhere else on the place of the
planet. California is over 1000 miles away on one side, and Hawaii
more than 1000 miles on the other. North and south of us there is a
whole lot of nothing for a long ways. But calling this 'nothing' out
here would be a true error. True, we are but a spec in the ocean, but
the ocean is a great thing and (for the moment) our playground.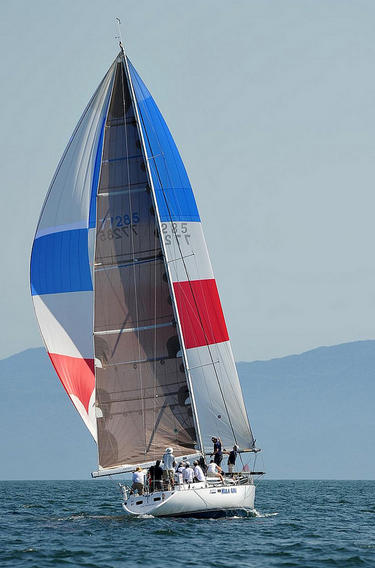 The breeze came up again around sunset, as it did last night. We were
a little better prepared for it this time, and shifted down to the
heavier 4A spinnaker (last night we had the big/lighter 2A up the
whole time, which caused yours truly undue stress). Shifting down was
definitely the right call. We are seeing sustained 20-25 knots, and
the lovely Hula Girl is in her element, scooting along at steady 12-14
knots. The driving right now is difficult, to be sure. But our team
has been getting great practice in the past couple of days and I'm
really pleased with how everyone is doing!
Our fall from 2nd to 6th in the standings two days ago was a bit
disappointing, and after a great run yesterday we were sorry to see we
hadn't picked up anyone by roll call this morning, but by our
calculations we have narrowed the margin a good ways and we think that
we are in a great lane to make some good moves. We don't think the
boats way south of us will get good angles into the islands (plus, it
could get a bit lighter down there). We think the boat north of us
have gotten more lift earlier on our way out towards the layline to
Hawaii. So we are pretty happy where we are. The light planing boats
are, as expected, untouchable in this stuff, so we are targeting a
respectable finish amongst the displacement members of our fleet. Now
we just have to sail like rockstars!
Everyone has been behaving wonderfully. Now, with the boat flatter,
we did a bit of house-cleaning today. Most of the crew have enjoyed
showers in the cockpit, and things are remarkably civilized! It's
pretty warm now too… hot in the sun during the days, and welcomely
cool at night.
The crew also wants to thank Sue for the phenomenal batch of
cookies… I'm not sure what we did to deserve being recipients of
her baked specialties (not only for the Pac Cup, but earlier in the
year we received cookies and milk just before the SD to PV Race!), but
boy we are are highly appreciative! Especially me, as I have taken
to using the treats as rewards to keep instructors inline. Especially
that Jasper character… he has taken to making things up, just for
attention, I think, I mean dolphins sleeping with one eye closed and
half a brain?? Really Jasper, where do you get this stuff?!? I
think he was in the sun too long today. But seriously Sue, thank you
from all of us. Please let us know your shirt size so we can send you
a Hula Girl team shirt!
That's it from me for now. I'm going to go on deck to get some cool
fresh air and take Hula Girl for a spin. Enjoy your feather beds
tonight, friends, It's a bit more 'sporty' out here tonight, and
that's working well for me at the moment!
All the best,
Wayne Zittel and the J World Team
https://sailing-jworld.com/wp-content/uploads/2014/07/ScreenClip-255B14-255D-25281-2529.png
568
375
jworld
https://sailing-jworld.com/jworldwp/wp-content/uploads/2015/01/Header-Logo.gif
jworld
2014-07-16 16:00:00
2015-01-05 19:19:22
Speck...