Monday morning commute was pretty nice this morning.  Traffic was, for the most part, non existent out here.  Life on board is good.  Jimmy is on his iPad, making sure I really know where I am going.  Dale just took a shower and is napping, and coach Jasper is zonked out in one of the pipe cots.  Mike just woke up and is getting ready to go on watch (he's grazing for snacks in the galley as I write this).  The sailing team on deck at the moment is coach Geoff, with Marko trimming spinnaker, Joe grinding, and Alix at the wheel….  and they are doing awesome.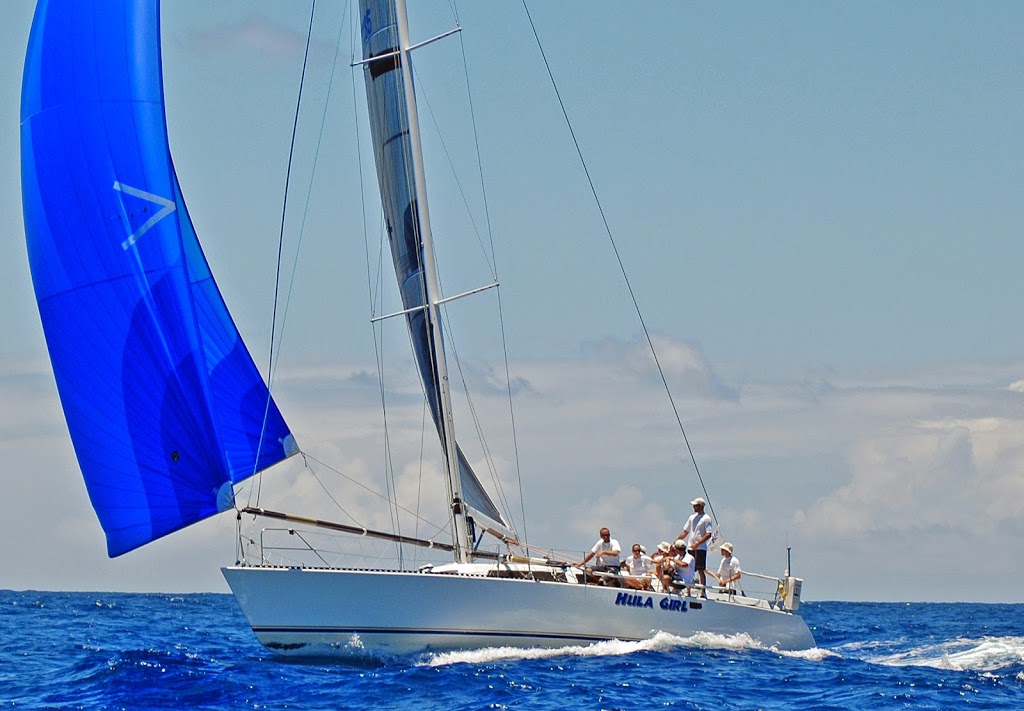 "stock photo," actual Hulagans may vary…
Just about a week ago, this team had never sailed together.  Now, here we are, almost 800 miles off the coast of North America competing in the great Pacific Cup race from San Francisco to Hawaii.  And it's pretty sweet.
We are well underway in shaking off the concerns involved with 'everyday' shoreside life.  So many of the things and stresses that seemed so important a week ago aren't so pressing anymore.  They aren't completely gone, to be sure, but the perspective is different.  It's kind of like having the vague feeling that somewhere I have frequent flyer miles which are about to expire, but I don't really care.  I'm more concerned with nautical miles , at the moment.  And we know the world rolls on without our immediate participation or attention, and it's kind of nice forgetting about it, even if only for a bit.  The World Cup, for example:  forgot it was even going on.  Wouldn't know a thing about the outcome had we not overheard Caro, the beautiful Botin 65, chatting on the radio with one of our competitors, Hana Ho (Caro is a German boat, and was celebrating the result).  And partisan politics, misbehaving starlets, self-driving cars, and the close of the markets today really don't mean much to us at the moment.  And it's pretty nice.
Well, after the first couple days, the breeze remained unstable.  We had big variations in speed and direction which meant our team had to work extra hard to keep the boat moving.  The wind also remained more northerly than forecast, so we spent a good amount of time reaching straight for Hawaii.  We thought the wind was working around to the east (as expected) and changed to a flat reaching spinnaker for part of the day yesterday, but it didn't really happen so in the afternoon we changed back from the 3A to the Code 0.  Early this morning, the shift had come in to stay, so shortly after sunup we hoisted the big 2A spinnaker and are pointed pretty much at the islands for now.  The breeze is up to 16-18 knots with occasional gusts to 20 and there is a small but building swell making for some good surfing conditions.  The smaller lighter boats in our fleet (especially the J125s Hamachi and Reinrag2, but also the SC37 Tiburon) are going to be virtually untouchable in this stuff, but we'll keep the hammer down and see if we can't take a bite out of a couple of them.
Saturday night out here was stunning.  The full moon peaked out of the clouds for a while, and lit up an ocean full of jumping dolphin.  Absolutely breathtaking.  Today is overcast, but actually nice…  it's plenty warm (most of the foulies are getting stored away at this point), and a break from the tropical sun is nice (we'll have enough of the shortly).
So that's about it for now.  Everyone have a great night, think good thought for those of us out here in the deep blue, and we'll see you when the big 'ol sun comes 'round again!
Wayne Zittel and the Hula Girl Team
https://sailing-jworld.com/wp-content/uploads/2014/07/DSC_5931.jpg
711
1024
jworld
https://sailing-jworld.com/jworldwp/wp-content/uploads/2015/01/Header-Logo.gif
jworld
2014-07-16 14:57:00
2015-01-05 19:19:28
Miles....