2015 Newport to Cabo Race Wrap Up
Last week, team J World participated in the Newport to Cabo Race aboard our turboed 50 footer Hula Girl, with a crew comprised of three coaches and six clients.
We stated off close hauled, working south and away from the coast, with breezes generally light and variable.  In the evening, as we got south of Camp Pendleton and down to San Diego, the breeze went soft.  The first night was a huge challenge for a group trying to learn how to sail a boat new to them.  The winds were from all over the place, rarely over a couple of knots, and it was dark (a sliver of a moon was mostly obscured by clouds).
In the morning at roll call, I have to say that I wasn't terribly surprised that many of the other teams had put some miles on us.  The level of talent out there was very high, and most of these teams have sailed together (and done this race) many many times, so our work was cut out for us!  So as the westerly filled mid morning and we got moving southward again, we had some distance to make up.  But we were ready for the challenge (and Jimmy "goose eggs" really wanted to shake his new nickname).
The breeze built nicely, approaching 20 knots.  In the evening, we decided to shift down to a smaller, stronger spinnaker and changed to the 4A.  Good thing, too, as the breeze continued to build.  By around midnight or 1am, we were seeing 25 knots, with the occasional spike to 28, even 30+ a couple times.  It became a wild ride….  and we almost kept the wheels on the wagon.  Almost.  Right at daybreak, we wrapped our brand new 4A around the headstay.  In the effort to get it off, we lost the tail of the mainsheet, complicating the process.  In time, we got the mainsheet re-run, then manually unwrapped the spin from the headstay.  Unfortunately, the sail was torn, and the headstay crushed.  Argh.
So we sailed under main alone to recover, clean up, and consider options.  We set the 3A spinnaker which was less than ideal, but our only real option.  That lasted most of the day, until we blew that sail up too.  Double Argh.  So trailing our fleet with no heavy air spinnakers, we decided not to try our luck with a light air one going into Monday night (wind still 25 knots), and we could not even raise a jib due to the crushed headstay, so we limped along, main only, waiting for the breeze to lessen a bit.
By first light on Tuesday, we were down to 18-20 knots of breeze, so it was back up with the lighter 2A.  The sailing from then on was just perfect.  Everyone aboard got a ton of helm time with the detailed coaching from Jasper and Andrew.  So while yours truly was frustrated at our overall position, I have to say that looking around the cockpit and seeing all smiles was a thing of great beauty.  Thanks team for helping me keep it all in perspective!
We finished Tuesday afternoon and sailed into gorgeous Cabo San Lucas.  I have to say I am really impressed at how well every did, the levels of improvement all around, and the awesome team spirit everyone demonstrated at every turn.  It was an absolute hoot to sail with old friends again, and really gratifying to see those that were new to offshore racing really get into it.  Thanks tremendously team!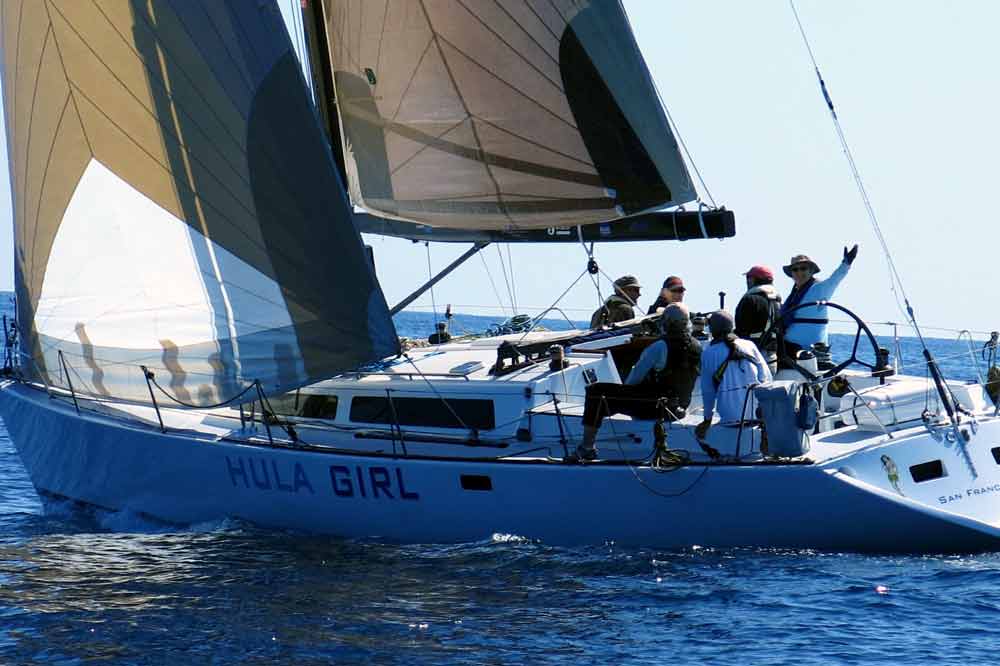 Want to live a real world offshore racing adventure yourself?  In September we will be hosting our annual Offshore Racing Seminar, San Francisco to San Diego.  In February of 2016 there is the San Diego to Puerto Vallarta Race, and we still have a couple berths left in the 2016 Pacific Cup (San Francisco to Hawaii).
All the best,
Wayne Zittel and the J World Team
https://sailing-jworld.com/jworldwp/wp-content/uploads/2015/01/Header-Logo.gif
0
0
jworld
https://sailing-jworld.com/jworldwp/wp-content/uploads/2015/01/Header-Logo.gif
jworld
2015-04-02 22:16:55
2015-04-13 17:08:21
Torn and frayed… but oh so happy!