We here at J/World love getting tales of adventure from our alumni!  Another of these just popped up in our inbox, and we thought we would share it.  This comes from our friend Gary who took classes with us a couple years ago then set off to do it on his own:
I've had a really busy couple years since I took classes at J/World.  I think the last time I wrote you, I had purchased my boat and was having it refurbished.  Well, I finished the major project last May in St. Petersburg.  A friend joined me and we sailed my boat from St. Pete to Cape Canaveral, around the Keys.  After he left, I single handed up to Brunswick, Georgia.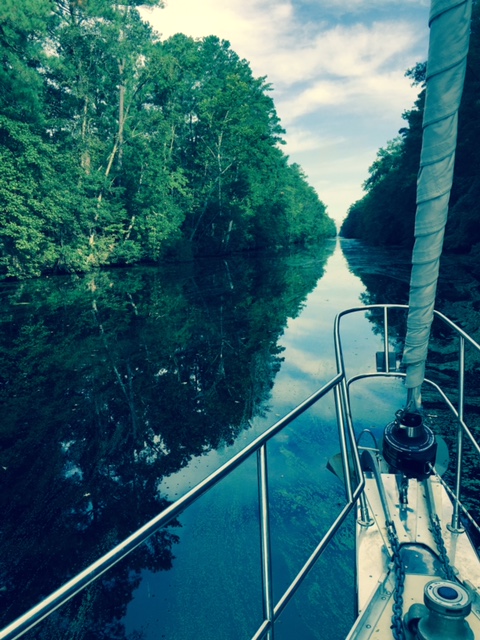 I traveled off the boat for about 6 weeks, then came back and sailed from Brunswick to Washington, DC.  We did a combination of Inter-coastal Waterway and coastal sailing in the Atlantic.  We managed to get caught in a thunderstorm that fortunately only lasted about 75 minutes.  Winds were sustained at 45 and gusted to 57 knots!   We managed just fine.  After DC, I sailed back to Brunswick, and then a month later sailed from Brunswick to West Palm Beach.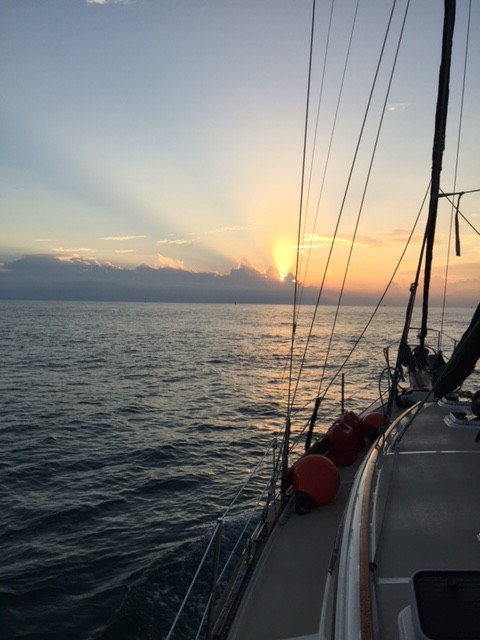 Last week, with friends and crew, I sailed to the Bahamas.  Twelve miles from West End, my engine quit and I couldn't get her restarted.  Without being able to motor into port, no tow service, no protected place to anchor and a big storm on the way, we turned around. So, we sailed back to West Palm Beach, wing on wing throughout the night and arrived at dawn.  I got towed into the marina.  The mechanic said it was crud (technical term) in the diesel, so, I had the fuel polished and we left again on Monday.  This time we made it to West End just fine!  So, now I'm a veteran of crossing the Gulf Stream three times (in less than a week).  Gary H., who took all of the courses with me at J/World, flew in and sailed with me.  We had a great time together.
I'm stuck in West End for a few days waiting for good weather to sail across the Little Bahama Banks on to Great Sale Cay and then to Green Turtle Cay.  My plan is to get all the way to the southern Exumas, and perhaps beyond.
In the time I've owned my boat, just 13 months now, I logged almost 4000 nautical miles and I'm starting to feel competent as a sailor.  I live aboard full time and love it.
Thanks again for having a great school and teaching me the fundamentals so I could do what I'm doing.  I'm loving my life!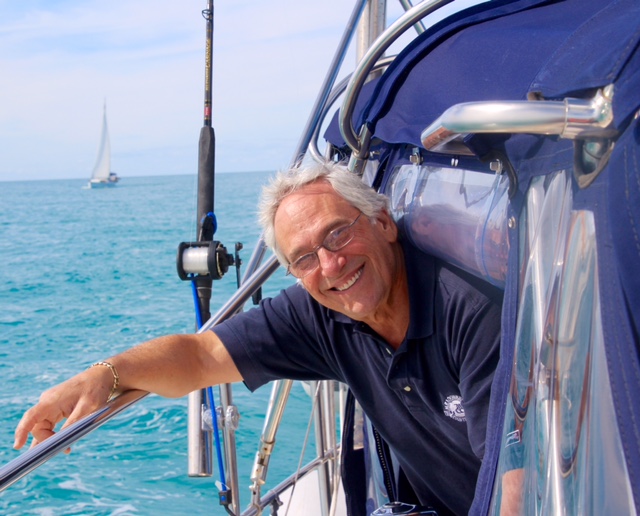 Thanks for sharing, Gary!  Keep us posted on your next adventures!
 –  Fair winds and following seas from your friends at J/World!
https://sailing-jworld.com/wp-content/uploads/2016/02/FullSizeRender-2.jpg
480
640
jworld
https://sailing-jworld.com/jworldwp/wp-content/uploads/2015/01/Header-Logo.gif
jworld
2016-02-04 20:25:13
2016-11-13 02:07:20
Happy Alumni Tales