After some 2225 miles of ocean racing, we just about have the finish line in sight! Well, here aboard Hula Girl we certainly had our trials and tribulations on this one. The light and difficult conditions for the first days of the race made for some really tough going. Then I got us stuck in a lane too far south where we simply didn't have the wind that our competitors to the north had.
But, as strange as it may sound, as we sail for the finish line now, coming around the eastern end of Oahu into the Molokai Channel with preparations beginning for the final gybe towards Diamond Head, I don't think I would risk changing much about this race. You see, despite all the challenges, we had a great time because we had a great crew. It was absolutely a privilege to sail with each and every one of these sailors. If the going is easy, I don't think you really get to know people. But when you have adversity and challenges, and despite those everyone is still this great to be around, well, you know you are in quality company.
Not that it was all tough going… don't get me wrong. After we took our lumps, we had some absolutely fantastic sailing. Nice steady breezes ushering us across the Pacific. We did a great job reeling in much of our fleet, and passed another boat yesterday. And right now, off our port bow we can see the northern shoreline of Molokai, and of to starboard the island of Oahu. The translucent blue water that we have gotten to know so well still sets the stage, and the puffy white tradewinds clouds, our accompanying sailors in the sky, scoot past our finish line and continue on their way. But here our voyage ends. Diamond Head buoy, the finish mark of the 2015 Transpac, and of many Transpacs before. This 48th running of one of the top offshore races in the world is wrapping up for our crew.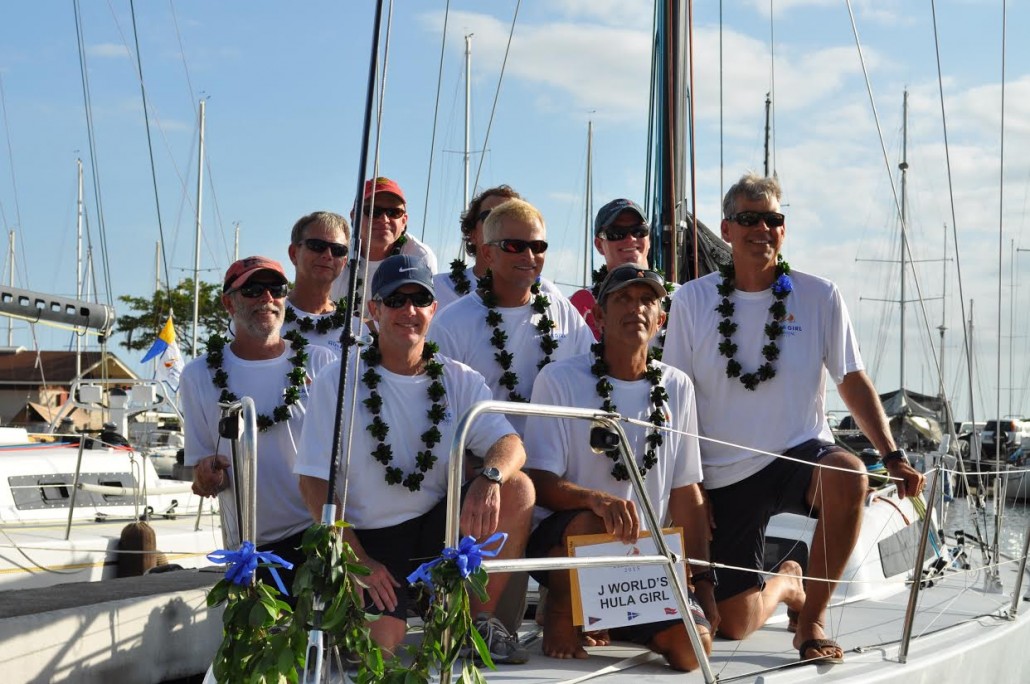 So I want to thank out team of Bruce, Brian, Bjug, David, Steve, and Sean, and of course coaches Chris and Patrick, for making this such an enjoyable and memorable crossing. And thanks to the mighty Hula Girl for a safe, fun, and fast passage. Man, she is a delight to sail. Thanks to all our friends and family and supporters from home and around the world. Now, if you'll excuse me, we have one last gybe to set up for, then the oh so gratifying afternoon sail down the Oahu coast, past the finish at the iconic Diamond Head, past the famous Waikiki Beach, and into the Ala Wai Harbor. Then I think there just might be a well earned Mai Tai or two awaiting our crew. Just a hunch.
Aloha!
Wayne Zittel and the J/World's Hula Girl Team
https://sailing-jworld.com/wp-content/uploads/2015/01/Hula_Girl_FR-15-1-e1500162814886.jpg
600
900
jworld
https://sailing-jworld.com/jworldwp/wp-content/uploads/2015/01/Header-Logo.gif
jworld
2015-07-29 00:17:00
2016-11-13 02:17:55
2015 Transpac Finish Line Report